2册主要是短元音训练,集中在cvc范围。
new words:
rag 抹布
fib 说谎
rig 钻井平台
bop 跳舞
dud 无用的
sup 呷
pun 双关语
a:angry apple cat ant yak ax
am:ram jam yam dam Sam
an:fan man pan can van
ad:dad pad mad
ag:bag rag tag lap
ap:cap map nap tap
at:bat rat hat mat pat
e:energetic egg web vet ten
et:jet net wet PET get
en:hen pen den
ed:red bed wed
i:interesting insect hip ink zip in
ip:lip tip sip rip dip
ib:bib rib fib
id:kid lid hid
in:pin fin bin win tin
ig:fig wig big dig rig
it:pit hit kit
ix:six mix fix
o:orange octopus fox log ox rod
ot:pot hot cot dot got
op:top mop hop pop bop
u:unhappy umbrella sun up jug hug
ug:bug rug mug tug
ud:bud mud dud
up:pup cup sup
ut:nut hut cut but
ub:cub tub sub
um:gum hum sum
un:bun run fun pun
重点技能:rhyme
Sight words: with at puts on for day girl she we use then take oh in go to can open needs help under thank now stands doesn't too gets are friends they live make yum
句型:
I see sth. and sth.
The man has sth. and sth.
A man with a van is at the dam.
The ants want the yam.
The man puts jam on the yam for the ants.
Is that your cap on the map?
This is...
That is...
We use the tap.
Then we take a nap.
I like to sip with my lips.
He can...
Can you see a pin in the bin?
I don't want six pits!
There is...
语法:
sth.,sth. and sth.
介词训练:
with a bag/map/ax/cap/fan/can/pan
on the mat/can/pad/map/yam/bed/log/hat/cot/rug
at the dam
in the net/bin/mud/tub/hut
under the net/cot/pot
参考书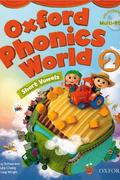 2级Oxford Phonics World 2: Short Vowels2923人有 · 评价1625 · 书评13SchwermerOxford / 2012-11