Hungry Jim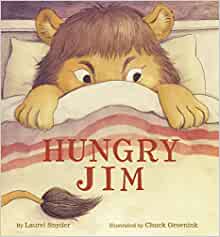 20
家庭拥有
在小花生App为孩子
建立免费电子书房
阅读年龄分布
4-5岁
42.9%
1岁以下
14.3%
1-2岁
14.3%
3-4岁
14.3%
9-10岁
14.3%
男孩女孩阅读比例
男孩 66%
女孩 34%
数据来自小花生App的阅读打卡
图书介绍
★ "In this clever tribute to Maurice Sendak, Snyder and Groenink gleefully subvert picture book norms by embracing the beastliest behavior." — Publishers Weekly, Starred Review

A hilariously meaningful tale about learning to control your instincts: When Jim wakes up one Tuesday morning, he doesn't feel like eating his pancakes. In fact, Jim doesn't feel like Jim. He feels rather, well, beastly. But he is hungry. Very hungry... hungry as a lion! This clever tale of moods from Laurel Snyder and Chuck Groenink offers a lighthearted depiction of the beastliness that lives inside all of us—and the power we have to put it in its place.

• Surprising yet satisfying, this humorous book will have readers of all ages roaring to devour it
• Richly illustrated pages are engaging and help readers connect with the story
• Author Laurel Snyder is the author of many books for children, including the Theodor Seuss Geisel Award-winning Charlie & Mouse
• Illustrator Chuck Groenink hails from a village in the north of the Netherlands, where he spent his formative years climbing trees, drawing, reading, and cycling

Fans of The Dreamer, Ruby's Sword, and Tomorrow Most Likely will also ...
★ "In this clever tribute to Maurice Sendak, Snyder and Groenink gleefully subvert picture book norms by embracing the beastliest behavior." — Publishers Weekly, Starred Review

A hilariously meaningful tale about learning to control your instincts: When Jim wakes up one Tuesday morning, he doesn't feel like eating his pancakes. In fact, Jim doesn't feel like Jim. He feels rather, well, beastly. But he is hungry. Very hungry... hungry as a lion! This clever tale of moods from Laurel Snyder and Chuck Groenink offers a lighthearted depiction of the beastliness that lives inside all of us—and the power we have to put it in its place.

• Surprising yet satisfying, this humorous book will have readers of all ages roaring to devour it
• Richly illustrated pages are engaging and help readers connect with the story
• Author Laurel Snyder is the author of many books for children, including the Theodor Seuss Geisel Award-winning Charlie & Mouse
• Illustrator Chuck Groenink hails from a village in the north of the Netherlands, where he spent his formative years climbing trees, drawing, reading, and cycling

Fans of The Dreamer, Ruby's Sword, and Tomorrow Most Likely will also enjoy the engaging storyline and whimsical illustrations in Hungry Jim

"Use this at story hour and expect giggles, shrieks, and groans." — Booklist

• Great family read-aloud book
• Books for kids ages 3–5
• Children's book for preschool to kindergarten
(
展开
)
读了"Hungry Jim"的还在读
所属书单